Retort Pouch Gift Boxes: Filleting Wild Alaskan Salmon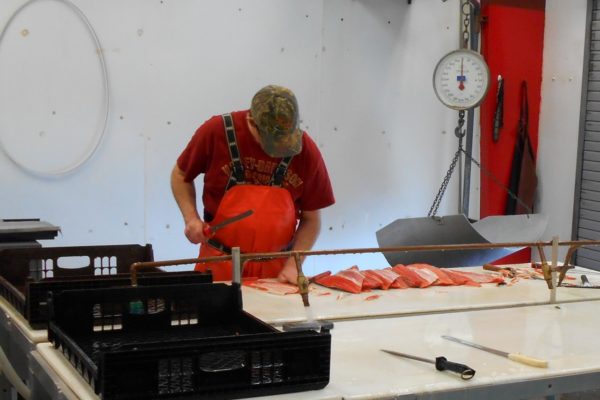 Today we begin a series of articles that will guide you through the first stage in our retort pouch process. In making our retort pouches, we use the same technology the U.S. Military uses in the making of M.R.E.s (Meals Ready to Eat). Through the retort process, we produce and distribute shelf-stable retort pouches and gift boxes. As with all of our products, the process of making a retort pouch (soft flexible can), begins with the filleters.
In the picture above, our expert filleter Joe, hand fillets Wild Alaskan Salmon to be put through the retort process. We will use these fillets to make the gift boxes available for purchase on our website and throughout Southeast Alaska. This series of articles will guide you through this process and provide you with a picture perfect view of how we produce the retort pouch gift boxes.
Why Hand Filleting Is Better
Joe is filleting the Wild Alaskan Sockeye Salmon while it is still fresh and without freezing to maintain the highest quality product. Often times large institutions will freeze the salmon first and then machine fillet it. Although this saves time and generates more profit for the institution at the cost of a lower quality product. While Machines are certainly faster at filleting, they cannot identify and remove any imperfections in the product.  Additionally, machines are not as good at determining how much product needs to be cut in order to make a clean fillet. As a result, machine filleting creates more waste and will leave you with a smaller overall product.  For this reason, we hand fillet the product trimming it to perfection.
Machine filleting salmon also requires adding a freezing stage to the production process.  Freezing the product also slows down the production process, meaning more time between the start of processing and the final cooking. Many manufacturers use a process called flash-freezing that rapidly freezes the product to get around this.  At Alaska Seafood company, we find the best way to guarantee a quality product is to hand fillet the fish fresh without unnecessarily freezing it first.