Wild and Sustainable
The icy waters bordering Alaska's 34,000 miles of coastline are the largest, most productive-commercial fishing grounds in the world. Alaska's rich abundance of marine life is supported by lakes, rivers, streams, bays, and fjords.  Alaska's waters contain five species of salmon, three varieties of crab, halibut, rockfish, cod, Alaska pollock, sablefish, herring, shellfish, and several varieties of sole and flounder.
Alaska Seafood Company's fish are wild and sustainable. Salmon and halibut swim freely in the Bearing Sea, Gulf of Alaska, Southeast Alaska, and the waters of the North Pacific Ocean. This habitat creates seafood with a lean and firm texture, which provides a superior flavor.
 Alaska Seafood Company, incorporated in 1987, is located in Juneau, Alaska.  Our company was formed to take advantage of the new technology of the retort pouch, a "soft can" method of canning. The process allows for a whole smoked salmon fillet or fillet portion to be made shelf stable (no refrigeration required). Since then we have developed an entire line of shelf stable products under the name Alaska Cannery and Smokehouse, which are widely distributed to Gift Shops and "Big Box" retailers throughout Alaska and the North West.
Alaska Seafood Company was the first facility in Alaska to produce smoked salmon in the retort pouch.  Also offered are boneless smoked salmon or non-smoked Wild Alaskan salmon and Halibut which is hand packed in traditional cans. Refrigerated products made available by our company include a line of hot and cold smoked salmon as well as Frozen Fresh Salmon and Halibut portions.
Frequently Asked Questions
How do I read your expiration dates in the code?
admin
2019-04-04T12:39:39-08:00
Cans, Jars and Retort pouches are virtually indefinite in shelf life. Anyone eating C-rations from WW II or Korean War era can attest to. We do operate with a guideline for nutritional purposes. Five years for cans and seven years for jars and pouches. After that nutritional will start falling off but they will still fool the tongue and stomach. We use Julian dating to establish when the product was made. See below for cans, this can be read on the can lid.
Date Code for Can Lids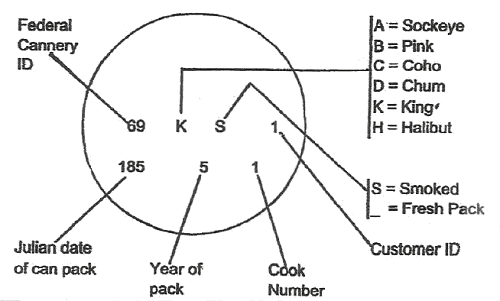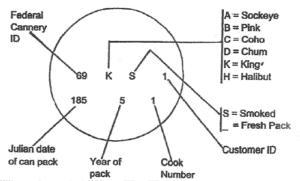 Date Code for Jars and Pouches