Alaska Seafood Company: Wild Alaskan Seafood Provider
     The first thing we want our customers to know is that we use only Wild Alaskan Seafood and that we are Located in Juneau, Alaska. The Alaska Seafood Company was first in Alaska to take advantage of the new "retort pouch" technology. Because the retort pouch technology is a "soft can", it allows for a whole smoked salmon fillet or portion to be made shelf stable. Since then we have developed an entire line of shelf-stable products under the name Alaska Cannery and Smokehouse, which are widely distributed to Gift Shops and "Big Box" retailers throughout Alaska and the North West.
     Alaska Seafood Company was the first facility in Alaska to produce smoked salmon in the retort pouch. We also offer boneless smoked salmon or non-smoked Wild Alaskan salmon and Halibut which is hand packed in traditional cans. Refrigerated products made available by our company include a line of hot and cold smoked salmon as well as Frozen Fresh Salmon and Halibut portions.
What's for Dinner?
Hungry? Click to check out all the FRESH, Wild, Alaskan Seafood you could have shipped for FREE directly to your door! Need a gift for someone, we do that too! We even have treats for pets!
We Use Only Wild Alaskan Salmon, Halibut, and Black Cod!
We Take Pride in Putting Out The Best Quality Products
About Our Amazing Products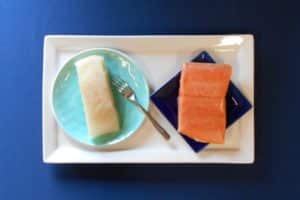 Alaska Seafood Company uses the finest Wild Alaskan Seafood from the Pristine Glacier Fed Waters of Alaska. Unlike other facilities, we do NOT use farmed fish or fish that was not born Wild in Alaskan Waters.  Additionally, our Seafood is rich in Omega-3 oils, high in protein, low in saturated fats, and contain no trans fats. First, every portion is Carefully Hand Filleted to a 2 person size (approximately 3/4  lb), then vacuum sealed in durable, quality poly-bags; and frozen to a very cold -20F to -30F. There it awaits maintaining all of its deliciousness until it is carefully packed and shipped to your door. Because we want you that you are in good hands at Alaska Seafood Company, we ship all of our Frozen Seafood products in Thermo-Insulated-Styros. Then each package is individually tracked to ensure timely delivery and communication with our customers.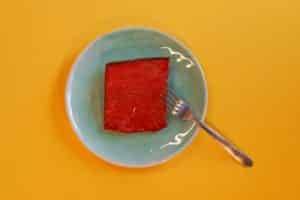 Our Hot Smoked Seafood products use only Wild Caught, Sustainable, Alaskan Seafood. First, it is Skillfully Hand Fillet into approximately 3/4 lb portions. Next, to ensure the highest quality product we place it in a proprietary brine, load it onto our smoke racks, and given just the right amount of Alderwood Smoke and to bring out all of its natural potentials. Finally, at the peak of its perfection, we carefully remove it from our smokehouse and thoroughly inspect it, and vacuum pack it in high-quality poly-bags. After being vacuum packed, we then place it directly into our freezer, where it freezes to a very cold -20F to -30F. There it awaits maintaining all of its Wild Deliciousness, for discerning palates around the country. We know you will enjoy our delicious Hot Smoked Product even more than we enjoyed making it for you.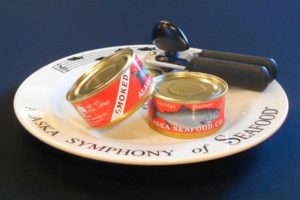 Canned Salmon has long been a mainstay of the Alaskan Seafood Industry. For that reason, we understand the importance of putting out a quality canned product. We hand select and pack our smoked, fresh and boneless seafood products in 6-oz. cans (tuna size) ensuring a product that will meet your standards. During this process, each can is carefully weighed to ensure it contains three full 2 oz servings of Delicious, Wild, Alaskan Seafood. We also provide you with the choice of Fresh Sockeye Salmon, containing enough salt to enhance the flavor, or our signature Brined and Alder Smoked Salmon, Halibut, or Cod for canning. Finally, our canned products contain NO added nitrites or nitrates, only a little brown sugar to soften the smoke. These cans have an astounding 5-year shelf life.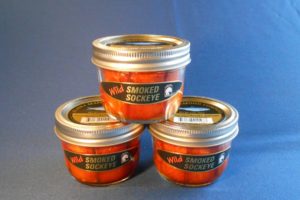 Providing a pleasing appearance with the same great taste you have come to expect, these items include Smoked & Natural Caviar, Smoked Sockeye, and Smoked Jalapeno Coho Salmon, and more. Additionally, our Caviar is one of the few Shelf Stable Caviars on the Market, in 2016 we entered our Smoked Caviar into the Symphony Seafood show which brought us to the renowned Boston Seafood Show where it ranked as the First Place Winner. Not only are they great products with great taste and a great look, but because they are shelf stable and have such a great appearance they make great gifts too! And, we process our jarred salmon with the care you have come to expect, Hand Filleted, Professionally Smoked, and Hand Packed in a 6.5 oz jar to give a great taste and an amazing 7 shelf life. Be assured there are No nitrites or nitrates added.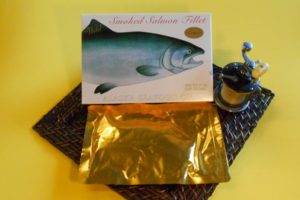 Our pouched seafood products undergo what is known as a retort process, a technology tried and trusted by the U.S. Military (Meals Ready To Eat). As a result, these pouches are lightweight, flexible, easy to pack around and have a 7-year shelf life. Also, each pouch contains a full portion instead of smaller strips cut to fit the packaging. And as you might expect these products are also hand filleted and portioned as well as professionally smoked. Then each pouch, containing 1 fillet portion, is carefully weighed to be 4, 8, or 16 oz of premium Alaska Wild Caught Fish. Additionally, our fillets are specially brined in a salt/brown sugar combination, alder smoked to perfection and then sealed in a gold, foil pouch. As a result of the retort process, No refrigeration is necessary for these products until the pouch has been opened.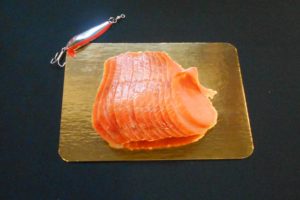 Lox / Lachs: "Alaska Lox", a blend of "Old World" and Native Alaskan techniques are similar to Scotch Lox. First the salmon is hand filleted and specially brined with a salt and brown sugar blend. Next we smoke the Lox with with just the right amount of Alderwood smoke. Finally, we thinly slice and weigh each package to contain 5 oz of product. But if you prefer, we also have 1.25 Lb un-sliced Lox fillets for you to slice to your preferred thickness. Sliced thinly, our sliced lox are great for use with bagels and cream cheese, or other recipes. Additionally, our unsliced Lox also known for their great taste and soft texture, may be easily sliced while semi-frozen with a sharp knife cut on a bias.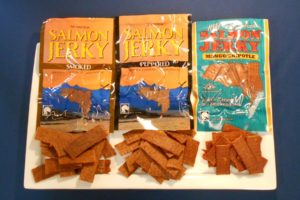 We also offer a wide array of specialty items Like our Smoked, Peppered, and Mango Chipotle Salmon Jerky in addition to our more traditional products. This Salmon Jerky has a soft texture and is made from our Premium Sockeye Salmon. Or try our Alaska Bits, a healthy Salmon alternative to Bacon Bits, great on a variety of foods from scrambled eggs to baked potatoes. Additionally, our Salmon Dip is also great if you are watching the game or having guests over (Just add cream cheese and friends). And if you are looking for pre-made gift boxes, we have those in this section also.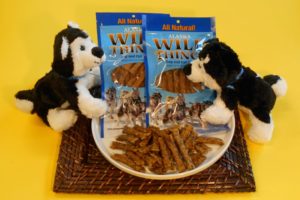 Made with 95% salmon and 5% white rice, Alaska Wild Things Pet Treats are 100% all natural. As a result, they are a flavor-filled source of protein, vitamins, and minerals, hand-formed, lightly smoked and cooked to perfection. Additionally, we use all only Wild Caught Alaskan Salmon to produce the finest pet treat for your furry companion. Finally, because we know you love your pet, we place the same care in selecting only the finest ingredients for our pet treats and only use salmon considered fit for human consumption.